Biography
Frank Austin, Artist
Background
Working out of a light filled studio in the Uplands area of the city, Swansea born, Frank Austin has developed his experience of art along a scenic route of extensive travel and multiple vocations including aerial rigging, welding, tree felling in California, busking* in Europe, carpet fitting, carpentry and more recently as a library designer for schools and various institutes (see Austin Designs). His wide range of interests are expressed through a variety of mediums.
Familiarity with carpentry and metalwork has helped Frank to develop an aptitude and feel for solid materials, experience as a designer has instilled a knowledge of colour and shape.
Frank's objective when creating a painting is simply to produce a pleasing picture without hidden meanings or messages to be interpreted by the viewer as he or she wishes. Frank's aims for the future include a general desire for continuing improvement of his various styles of art, especially in the development of a consistent impressionist style.

Old Swansea
A love of the history and changing scenes of his home town has inspired Frank to paint a series of images of old Swansea from the late Victorian era up to the 1960's, Where possible Frank has sourced early colour photos, but for any imagery before the 1960's, an imagined colour palate is utilised to interpret black and white photos. This body of work will be exhibited in the near future.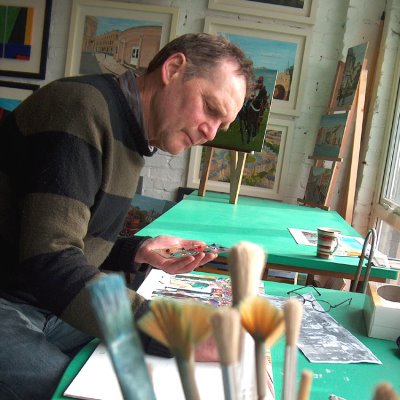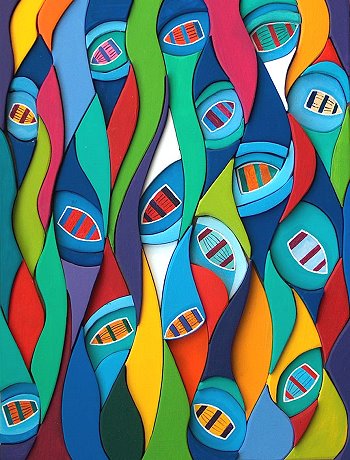 Marina - 7 stages of construction of a 3d image from preliminary sketch to completed artwork

3D Art
Frank's interest in a 3D style of art was sparked by working as a library designer, creating pieces to be incorporated into the library layout or as objects in their own right. This type of work decreased around 2002 as Frank's engagement with oil paints flourished, but the break has allowed the exploration of new ideas and a fruitful resurgence of interest.

Influences
At the forefront of many influences Frank would list Van Gogh, Turner, Canaletto, and the more recent Edward Hopper, Norman Rockwell and Howard Hodgkin. Formaldehyde, unmade beds, video art, flashing lights and most installation art hold no interest for him.
All paintings in the gallery section are oil on board. All 3D images are made from MDF sheets.

* YouTube.com, Constitution Hillbillies